Risk assessment and risk management require some work
A Scandinavian Airlines (SAS) turboprop carrying 44 people en route from Bergen to Copenhagen whose landing gear failed to fully extend, crash-landed at Copenhagen airport.
SAS will stop flying its 27 Dash 8 Q400 planes immediately.
We previously reported about the 2 crash-landing's with SAS Dash-8 or Q400 planes in early September here:
SAS risk management - after 2 crashes we get damage control
SAS risk management - after 2 crashes we expected risk management but got another crash-landing instead (UPDATE 1)
risk assessment and risk management - Scandinavian Airlines fails to use the six-step process
In thes postings we informed our readers that SAS admitted that prior to Sunday's accident in Aalborg (2007-09-09), problems with the aircraft's main landing gear had been identified, and the pilots had prepared for an emergency landing.
Such an emergency landing followed 2007-09-12 (Wednesday) when another Q400 had to do a crash-landing in Vilnius (Lithuania). The final crash-landing happened on 2007-10-27 in Copenhagen.
We have pointed out how it came to this complex and dangerous situation but of particular interest to investors is how management handled the risk assessment and what kind of decision it made regarding the risks involved and SAS passengers' safety.
At the end of this posting we pointed out that top management decided to take the risk and permit the planes to fly again.
LANDING GEAR
The landing gear of an SAS Q400 collapsed on landing at Copenhagen's Kastrup Airport on Saturday. However, Bombardier did not identify a systemic landing-gear issue even though both Sept. 9 in Aalborg and Sept. 12 in Vilnius, a Scandinavian Airlines (SAS) Q400's right main landing gear collapsed upon landing.
Bombardier spokesman Marc Duchesne has even been quoted in Canadian media as having said something to the fact that the landing gear problem during the emergency landing in Copenhagen is not related to the 2 September incidents with SAS Q400 planes. In the two September incidents, investigators have found corrosion on the actuator arm — a metal piece that pushes out and retracts the landing gear.
One unnamed source investigating the first 2 incidents indicated to some experts that SAS was using a corrosive non-certified aviation substance when doing work on the landing-gear. This raises questions about the SAS governance (e.g., quality control) and risk assessment. These must have failed, how else can one explain why such a risk was taken using a corrosive substance for doing maintenance work on the actuator arm?
We pointed out that the proper risk assessment process should have revealed possible maintenance problems SAS might have had as we outlined here:
- risk assessment and risk management - Scandinavian Airlines fails to use the six-step process
But it makes one wonder if this is a Bombardier problem (share lost 7% in its value on 2007-10-30 alone) or an SAS trend. According to Swedish media SAS had landing-gear problems with an MD-80 during August 2007.
Having 3 landing-gear problems with one type of aircraft but 2 different types of problems raises some issues about SAS's maintenance procedures. The planemaker Bombardier said that it completed a full review of the Q400's landing systems with the landing-gear manufacturer, Goodrich Corp. and the results had confirmed its safe design and operational integrity.
FINANCIAL IMPACT
Making the wrong decisions about risks costs SAS dearly
27 aircraft of Q400
Represent about 10% of the SAS group fleet
Financial impact of grounding
SKR10m-SKr15m (Euro 1.1m - Euro 1.65m) a day while the aircraft were grounded
How could this decision affect SAS' reputation (e.g., safety)?What might the legal consequences be - criminal and/or civil law suits?
The 27 aircraft that are now grounded and will have to be replaced according to SAS make up 10% of its total fleet of 303 planes and have in the past transported about 5% of all passengers that flew with SAS.SHAREHOLDERSShareholders have paid a heavy price for these landing-gear problems SAS has had with an MD-80 in August (stock dropped after this became public knowledge) and the current 3 nerar-crashes with the Q400 (September and late October).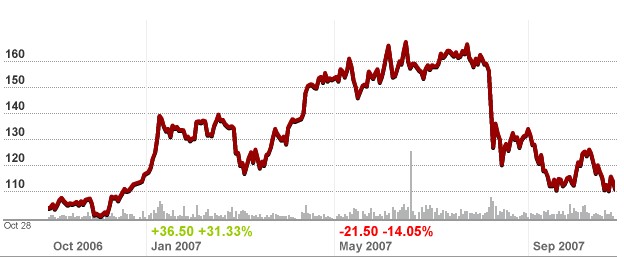 If you cannot view the stock chart, please see SAS stock chart - Oct 2006 - Oct. 2007
As of last close on Oct 29 2007, SAS (SAS:STO) closed at 111.00, 11.28% above the 52 week low of 99.75 set on November 30, 2006. During the day, the share price dropped about 5% and recovered slightly at the end of trading in Stockholm.

If you cannot view the stock chart, please see SAS stock chart - August 2007 - Oct. 2007
CORPORATE GOVERNANCE
We have pointed out elsewhere that the risk assessment procedures used by SAS must be a bit shaky see here:
risk assessment and risk management - Scandinavian Airlines fails to use the six-step process
In the above posting we also put our fingers on the governance issue. In particular, if Mats Jansson claims that taking these 27 Q400 out of the fleet has nothing to do with money, he may either not get the picture or ….. You be the judge but it costs SAS dearly and shareholders are paying a steep price for these risk assessment, risk management and governance errors with a falling stock and, as importantly, it will cost SAS between 300 to 400 Skr this year alone to let these planes not fly.
Grounding the planes and removing them from the fleet as announced by Mats Jansson, SAS chief executive is a costly thing to do. Seems like a panic-driven decision to pull the emergency brakes when apparently the near-crash landings could have been avoided with proper maintenance:
SAS removes Dash 8 from its fleet - took a long time - is this effective risk management or will maybe Horizon Air (USA) purchase these planes and take the risk?
Just think about the other 22 airlines worldwide that have reported no such landing-gear problems with this type of aircraft?
A consequences of this disaster should be an audit of SAS maintenance procedures and a clarification if the board and top management discharged with their responsibilities appropriately according to best practice. As we pointed out in some of the linked postings, it seems that SAS management and board took a risk. It admitted already early in September that it had given special training to all flight crews of the Q400 to cope with landing-gear problems in case of an emergency. Having done that it hoped all would go well.
Inquiring minds want to know if this was both proper and, as importantly, ethical?
Any lower level employee having made a similar decision in his or her work as the board and top management seem to have done in this case would have been shown the door.
Shareholders must demand a clear and thorough analysis regarding what went wrong in the decision-making process regarding risk management. If this is not done we may soon have to view images of an SAS disaster that may cost human lives. Is this worth taking the risk
EU REGULATION
Law of averages says that with 150 aircraft in service, SAS would only see 1 in 5 of the problems (if there was a problem) or 1 in 5 of thr random occurances. That SAS had thre with Q400 and one with MD-80 regarding landing-gear is seeing significant amounts of veyr similar issues over a relative short period of time. This is beyond what is considered normal probability.
If SAS was using a corrosive non aviation substance that might have affected the reliability of the landing gear of the first tow Q400 near-crashes, this raises some serious issues regarding SAS governance and risk assessment. In fact, checks and balances must have failed to work properly, how else can one explain that mechanics were asked to use a corrosive substance for the landing gear, thereby putting passengers at risk?
Now the European Aviation Safety Agency apparently has raised concerns about the safety of the plane and asked for an emergency meeting with Bombardier and Canadian transportation safety officials to discuss the possibility of a new grounding order. However, if our information above is correct, these incidents indicate a weak governance structure and poor risk assessment on the part of SAS management and the board of directors that permitted wrong materials to be used for maintaining the plane. Who is accountable, usually the board and top management - hence what are the consequences for their sloppy work investors should ask.
As a conclusion, the European Aviation Safety Agency seems to bark up the wrong tree and should instead focus on airlines, such as SAS either taking short-cuts or doing things improperly. You be the judge.
RELATED STORIES
5 - ZKB - failure of corporate governance
4 - ZKB - C - failure of internal controls - tax evasion
SUBSCRIPTION
To make it more convenient for you to take advantage of CyTRAP Labs' offerings, just provide us with your e-mail address below. You can personalize your subscription to make it suit your needs.
87a